Folorunsho Alakija Biography, Children, Wiki, House, husband, education, books, cars, Net Worth
Check out the Folorunsho Alakija Biography and All you should know about the Billionaire's net worth
The business sector is largely regarded as a male-dominated one. However, numerous women have made an impact in this profession that cannot be overlooked. Folorunsho Alakija is one of these women. Here's everything you need to know about her.
See Also Jada Pollock Biography, Net Worth, Wiki, Real Name, Husband, Wizkid Manager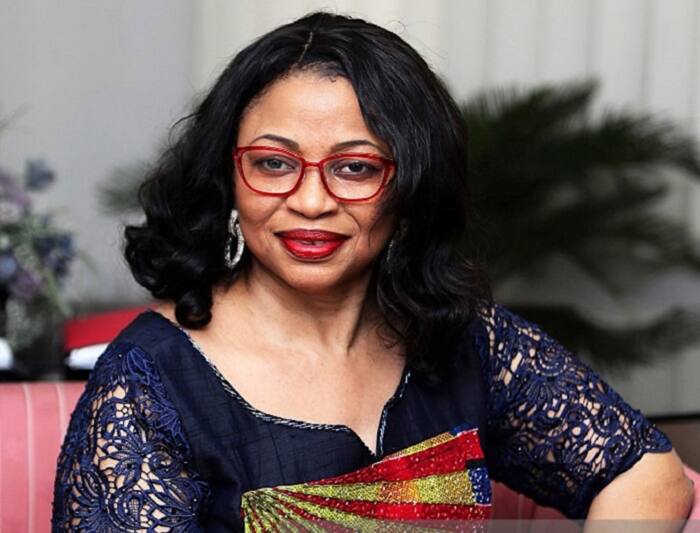 Folorunsho is a Nigerian entrepreneur with interests in fashion, real estate, oil, and printing. She is the group managing director of The Rose of Sharon Group, which includes Digital Reality Prints Limited and The Rose of Sharon Prints and Promotions Limited, as well as the executive vice-chairperson of Famfa Oil Limited.
Folorunsho Alakija Wiki summary
| | |
| --- | --- |
| Full name | Folorunsho Alakija |
| Date of birth: | 15th July 1951 |
| Place of birth | Ikorodu, Lagos Estate, Nigeria |
| Age | 70 years in 2021 |
| Nationality | African ( Nigerian ) |
| Ethnicity | Black Race |
| Relationship status | Married |
|  husband | Moduape Alakija |
| Religion |    Christianity |
|  Net worth | Over $2.5 billion |

Folorunsho Alakija Biography
Alakija was born in Ikorodu, Lagos State, Nigeria, on July 15, 1951, into the family of the great Chief L.A Ogbara. Between 1955 and 1958, she attended nursery school at Our Lady of Apostles in Lagos.
Folorunsho moved to the United Kingdom for her primary school education when she was seven years old. Between 1959 through 1963, she attended Dinorben School for Girls in Hafodunos Hall in Llangeynyw, Wales. She returned to Nigeria after primary school and enrolled in a Muslim high school in Sagamu, Ogun State.
She eventually returned to the United Kingdom to study secretarial science at London's Pitman's Central College. She also did a fashion course at London's Central School of Fashion.
Folorunsho Alakija Career
Alakija started her profession right after she graduated from fashion school. She got her first work as an executive secretary at Sijuade Enterprises in Lagos, Nigeria. She afterwards went to work at the former First National Bank of Chicago, which later became FinBank.
She left the banking field after a few years to start her own business, and then she moved into the fashion industry. She launched Supreme Stitches, which gained a household brand a few years after its establishment, thanks to her superb stitching talents.
She got into the petroleum sector in May 1993, when she sought for an oil processing licence (OPL). Famfa Limited was successfully given the permit, allowing her to explore for oil on a 617 000-acre area known as OPL 216.
She entered into a joint venture deal with Star Deep Water Petroleum Limited in September 1996. According to the arrangement, Alakija's Famfa Oil Company holdings were transferred to Star Deep, a Texaco subsidiary, for a total of 40%.
Folorunsho Alakija husband
Mrs. Alakija is married to his true love, Mr. Modupe Alakija, who works as a lawyer. The couple married in November 1976, and they have been married for 43 years and are still going strong. The couple is the proud parents of four beautiful children.
Folorunsho Alakija Children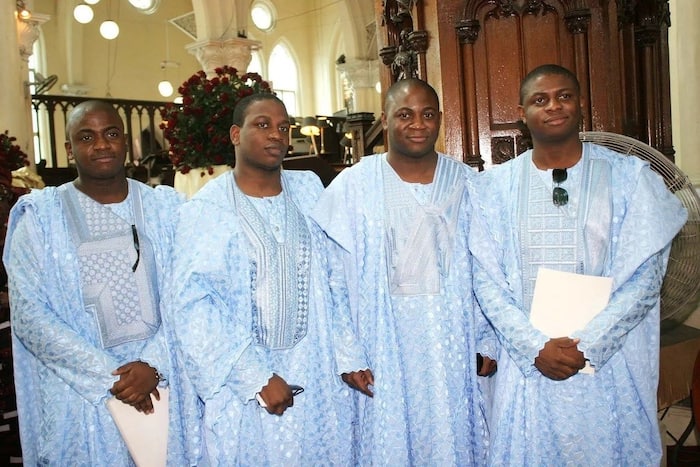 Children are the second most significant aspect of her life. While working at Famfa Oil Limited, these sons assist their mother in her various business activities. Folarin, Rotimi, Dele, and Ladi are the names of the four sons.
Folorunsho Alakija Philanthropic interest and books
Rose of Sharon Foundation is the name of Folorunsho's foundation. It provides business grants and scholarships to orphans and widows. The billionaire is also a successful author. Books by Folorunsho Alakija include:
Alone With God
Folorunso Alakija Speaks (An inspirational book for All)
Folorunso Alakija Speaks 1 (An inspirational book for Christians)
Growing with the Hands that gives the Rose
His Name is Over 2000 Names of My God
Scriptures for Husbands
Scriptures for Parents
Scriptures for Wives
The Cry of Widows and Orphans
University of Marriage
Window Shop for your Spouse
Folorunsho Alakija Net worth
The storey of Folorunsho Alakija is one of perseverance that has paid off. She is Nigeria's wealthiest woman and Africa's second wealthiest woman, behind Ngozi Okonjo-Iweala. Folorunsho Alakija's net worth is at $2.5 billion.
Folorunsho Alakija house /Folorunsho Alakija's Mansion
Her Lagos house, which is worth $700 million, is one of the most incredible residences she has. The residential building is a work of art designed by the renowned Adeniyi Coker Consultants Limited (ACCL) and built by Julius Berger Construction Company.
Folorunsho Alakija cars and jets
Mrs. Alakija, like many other black billionaires, has a garage full of high-end luxury vehicles. She just added four Mercedes-Benz G-Wagons to her collection of vehicles. Each of the vehicles costs roughly $114,000 each. She also has many luxury automobiles that she and her family utilise on a daily basis.
Folorunsho Alakija's private plane is a Bombardier Global Express XRS. The cost is expected to be around $50 million.
Folorunsho Alakija Christian Life
All of Alakija's accomplishments are credited to God. She is an evangelical Christian who is ardent in her faith. She has been preaching the gospel to anybody who will listen since she gave her life to Christ in 1991, even in the market place. She and her husband also founded a house fellowship, Rose of Sharon Glorious Ministry International, which is today a ministry.
Folorunsho Alakija contact details
Below are her contact details:
Twitter: @alakijaofficial
Facebook: alakijaofficial
Folorunsho Alakija Instagram: alakijaofficial
ALD Interview with Folorunsho Alakija
Frequently asked questions About Folorunsho Alakija
Here are the answers to some of the FAQs about the billionaire , Alakija.
Who is the richest woman in Africa ?
According to Forbes, Ngozi Okonjo-Iweala is listed as the richest woman in Africa while Folorunsho Alakija comes in second place.
What does Folorunsho do?
Folorunsho is a well-known entrepreneur and Africa's second richest lady. She oversees her oil firm, as well as her other commercial ventures..
How did Folorunsho Alakija get rich?
She has run a successful business in the oil industry as she is the owner of Famfa Oil Company. She was one of the first individuals to take part in the oil business, and even though the government had taken away her block, she won it back successfully.
Also read Abdulrasheed Bawa Biography, Family , Wife, State, Age, Net Worth